Where we live

In1998 we moved to Plan de la Tour from our previous home in Kanata, Ontario, Canada. We were attracted by the climate and the quiet, as well as the scenery and interesting places to visit.
Plan de la Tour is a small village (pop. 2500) located in the mountain range of the Massif des Maures, which runs from near Toulon to Frejus. We are 8 km from Ste Maxime, and 13 km from St Tropez. The principal activity in the village is the cultivation of vines and winemaking, but olives are making a comeback with the worldwide popularity of olive oil. The village and surrounding lands are situated in a sort of bowl in the range, surrounded on all sides except one by mountains typically 400-500 metres high. The exception is the direction of Ste Maxime, where the Preconil river, which starts in the village, runs out to the sea through its valley. The main road into the village also runs along this valley. Plan de la Tour is in the Departement du Var located in Provence and on the Cote d'Azur.
Plan de la Tour and the surrounding area is shown on a useful location map.
Instructions on how to get here by car.
A plan of the village.
Click on the picture below to see where we live and more pictures of the villa and the area.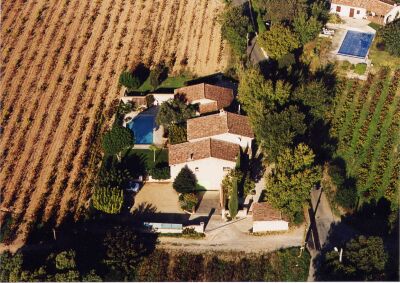 We add a pergola to the terrace 2005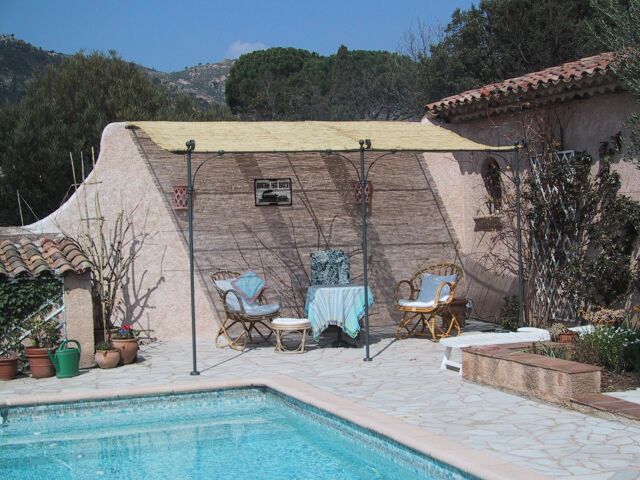 We lost a pine tree on the lawn, but the view is improved