La Ramade
Our villa is about thirty years old, built in the traditional Provencal style, and is located on the outskirts of Plan de la Tour village in the hamlet of Emponse. Chemin de la Plane leads from Emponse to the plain, called La Plane or le Plan. There is also another hamlet called Le Plan situated (of course) on Le Plan. We are about 1 km or ten minutes walk from the main village street and shops, which is very convenient.
Below is a picture of the entrance to our villa, La Ramade. The name comes from the sort of pergola which supports wisteria and bignonia, shown in the centre of the second image below.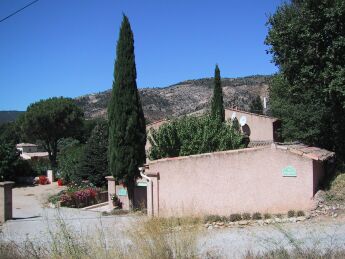 The ramade provides shade in the summer and sunlight in the winter when the leaves have gone. It is very agreeable to sit out under it on hot days, as the leaves allow air to circulate.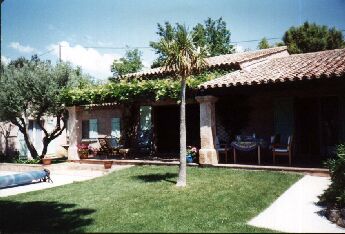 These pictures show the courtyard, and the terrace, where we eat out a large part of the year.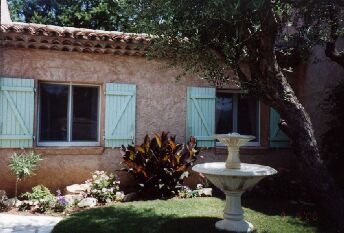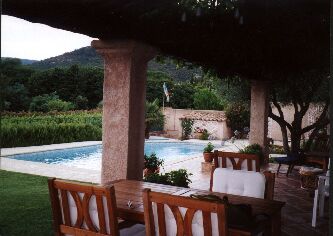 The pictures below show more of the pool and the lawn, and then the location of the property in the vineyards as it was when we arrived. We have vineyards on three sides, with the road on the fourth, and more vines the other side of the road, although houses are encroaching.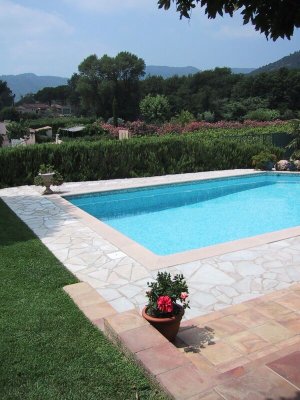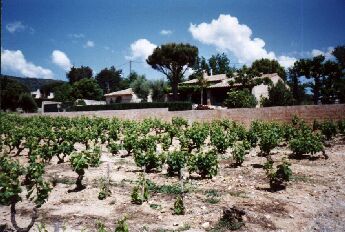 This is our view from the terrace. Click on the small image for a larger one. The peak that is visible is St Pierre, height 418m. Behind it lies the Gulf of St Tropez and Port Grimaud/Port Cogolin.
Below are some pictures of the interior of the house. Click on the small image for a larger one.
Second bed/ Guest bed/ Master bed/ Dining Room/ Kitchen/ Kitchen/ Salon (living room)/ Salon/ Salon